Heading 1
Got Questions? We have answers.
Why do women wear waistbeads?
---
In African cultures, waist beads are worn for only your significant other to see. Today, many women choose to show theirs publicly and we design and customize handcrafted waist beads for whatever intentions you plan to wear yours. Some intentions include:​ new beginnings and healing accountability weight management spiritual connection sexuality rite of passage for young adults/kids self-love and self-awareness body confidence/positivity femininity (womanhood) assist with bettering posture
---
Do I have to measure to place an order? How do I measure? Can I just use my pant size?
---
Measurements are not needed if you are ordering tie on waistbeads and fit up to a size 50. If you request to add a clasp to your waistbeads, you will need to ACCURATELY measure in inches (not centimeters) and enter that number when placing an order. No you can't use your pant size as measurement. Measure exactly where you would like your beads to lay on body. Click image to watch video:
1)Use a fabric measuring tape. Your pant size is NOT an accurate measurement. 2) Remove or raise any layers of clothing blocking your waist. 3) Measure where you want your beads to hang below or above your navel. 4) Stand up straight while measuring. DO NOT SUCK YOUR STOMACH IN 5) Start from the very beginning of the tape and wrap around your waist without sucking your stomach in. (take a deep breath, then exhale all the way out. Your stomach should be relaxed and not sucked in (this will cause an inaccurate measurment). 6) Re-measure yourself one or two more times for accuracy being careful to not suck your stomach in, this is very important when trying to get an accuract measurment. Your pant size is not an accurate measurement. *PLEASE MAKE SURE YOU MEASURE CORRECTLY. ORDERS CANNOT BE RETURNED FOR RESIZING TOO SMALL WAISTBEADS. IF YOUR STRAND IS TOO SMALL, YOU WILL NEED TO PLACE A NEW ORDER FOR YOUR SIZE. NO EXCEPTIONS TO THE POLICY. ​
---
Do you ship? How long will it take to get my order?
---
Yes we ship to all 50 states daily (excluding weekends and holidays). Though most of our inventory is made to order(once payment is fulfilled the order will begin processing) we do have a limited inventory for ready to ship strands. Processing times for made to order may vary from 7-10 business days but most times is sooner. Please be patient! We process orders(Monday-Friday) not including weekends or holidays. You will receive tracking information via email once your order has been shipped or is ready for pickup. COVID Disclaimer:Please keep in mind there may be some delays due to COVID-19. UPS and USPS are also experiencing extreme delays. Please expect delays of an additional 5-7 business days AFTER you receive tracking info. ​ Some orders may not experience any delays but please keep in mind that there is that possibility of a delay. Please review more on shipping policy during checkout BEFORE submitting your order. ​
---
What if my package is lost, stolen, undeliverable?
---
Once the package is shipped, Waisted Boutique LLC is not responsible for delays undeliverable or stolen packages. If the item is marked as delivered via the tracking info and item is still not received, please check with your local postal service and provide tracking info for filing claim for the loss. If you provided incorrect shipping address and the item is returned to sender, you will need to pay for items to be reshipped once they are returned back to me or if they were delivered to an incorrect address, unfortunately you will need to place another order or you can try to retrieve your package from the address order was delivered to. See more shipping policies at checkout BEFORE submitting your order. ​
---
What activities can I do while wearing waistbeads?
---
The goal is to keep you in your waistbeads as much as possible. You can carry on with your normal activities but, always be mindful that you are wearing waistbeads and they are delicate and can break/pop if handled too rough or applying too much tension. Our flexible stretch elastic strands--(perfect for beginners) and any strand with a clasp should be removed while bathing. Submerging your beads in water, especially hard water and some soaps are too harsh and may cause beads to change or lose their color/lust and may also weaken your closure clasp. Please keep this in mind should you decide to keep your stretch elastic beads on during bathing/showering/swimming. Exercising, dancing, intimacy are okay with your strands on at your own discretion. Traditional tie-on strands do not stretch and are definately an accountability tool, can be worn at all times and can withstand these conditions but you still want to be mindful that you are wearing them as well to prevent breaking them. The only way to remove traditional tie-on strands is to cut them off or if they pop.
---
Can I use multiple promo codes on an order?
---
Unfortunately only one promo code per order can be used. If you forget to use a discount code we cannot manually add the discount once the order is placed. If the code is still valid, you can certainly use it for future purchases. ​
---
What is your store policy?
---
ALL SALES ARE FINAL. We do not accept returns, exchanges, cancellations. We strive for customer service and to give you the best possible experience. If there is an issue with your order other than sizing, please reach out to us via email at hello@waistedboutiquellc.com We will respond to you to discuss your issues. Please allow 24-48 business hours for a response. ​ *We are not responsible for improper fit due to incorrect measurements. Please make sure you measure accurately. We do not accept pant sizes as your waist measurement. We do not resize waistbeads with clasps that are too small. We are not responsible for errors when self tying your waistbeads. If tying assistance is needed, please book the service under the booking tab.
---
Should I get tie-on or stretch waistbead? What is the difference?
---
Whether or not to wear tie on versus stretch is totally up to you. If you have never worn waistbeads before, stretch elastic may be great for you so that you will be able to become acclimated to wearing waistbeads. Stretch flexible-Measurements are needed for these strands and are shipped to on a stretch elastic cord. These will be pre-tied by me based on the measurement you input when ordering. You can opt to have a clasp added when placing the order (measurements are needed). These waistbeads will be able to be removed at your leisure and expands and move around with your body during changes. The strands are stretch and extremely flexible. These strands are not always available. Traditional tie-on- Comes to you untied. These strands are sent for you to self tie whereever you would like them to be on your body. These strands are on a braided nylon cord and do not stretch. These beads are mostly worn by women who are serious about their journey and intentions. These beads will hold you accountable for your intentions and may pop if too much tension is applied or tied too tightly. Tie-ons are not meant to be removed. However, you can also opt to have a clasp added for a little more flexibility. Be sure your measurements are accurate when adding a clasp because we will not resize waistbeads with clasps.
---
What methods of payment do you accept?
---
PayPal, Credit/Debit, Square are the ONLY methods of payment. Due to COVID no cash is accepted.
---
How can I contact you?
---
The best way to reach Waisted Boutique LLC is via text. You will receive a response within 24-48 business hours Wed-Sat during our normal business hours. (EST) Text 'WAISTBEADS' to 478-273-3908 or call and leave a voicemail if there is no answer. Email: hello@waistedboutiquellc.com
---
Can I bring my child(ren) or an extra person with me?
---
No. Only those with a pre-booked appointment for services are allowed in the studio. Booking your appointment is stating that you agree to this policy. Should you arrive with extra people that are not scheduled and not receiving a service the day of your appointment, your appointment will be immediately cancelled.
---
I don't know how to tie waistbeads. Can I just let you tie them?
---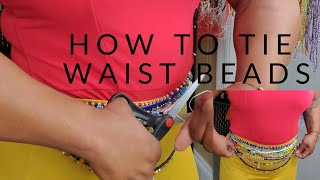 Absolutely! but sis, It's fairly easy and I send instructions on how to tie once you receive your order or you can watch this video for assistance: https://youtu.be/pJS-TM6cARU Yes, I do provide tying assistance service for an additional fee per person. Please click here to schedule this service. I do not tie another creator's waistbeads. Only waistbeads purchased at Waisted Boutique LLC
---
How do I book an appointment?
---
Click link here and choose your service.
---
My waist beads are too small now what?
---
So sorry to hear that. Because waistbeads are made custom to the size that you input, unfortunately you will need to make a new purchase for waistbeads your size. Please make sure you use the proper measuring tools to get accurate measuring (not pant size) ESPECIALLY for waistbeads with clasps added as these are customized to the size that you input and cannot be resized.
---
---